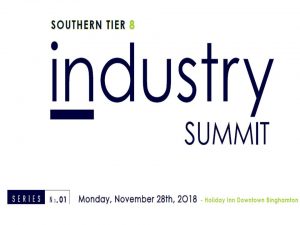 COMING November 28 – An Industry Summit
Optimize public + private planning resources – Go to Official ST8 Site
Through Collaboration, Best Practices & Industry Clusters

Date:

November 28, 2018
Time: 8:30am – 1:30pm with optional post summit industry cluster networking 1:30 – 3:30pm

Location:

Holiday Inn Binghamton, Downtown

Fee:

$49
Hosted by Southern Tier 8 (ST8)

Be a SPONSOR

Conference Sponsors ($1,000 gets conference listing, table + 20 tickets): Imperium3 NY + see full list at Industry Summit site.
Booth Sponsors ($250 gets booth listing, table + 5 tickets): Independent Contractors Alliance Corp. + see full list at Industry Summit site.

Non-Profit Sponsors ($100 gets community sponsor listing + 2 tickets):

+ see full list at Industry Summit site.

Likely Takeaways:

CEDS Overview; State of Readiness book; State of the Region document; Industry Cluster data; Items optionally provided via Sponsors
Main Audience:

Private Companies – Executives; Business Development Managers; Supply Chain Professionals; HR; Procurement

Secondary Audience:

Economic Developers; REDC members; Government Officials & Government Organizations; Academics

Context: 1st in a series of "Economic Development Industry Summits / Meetups" to drive performance improvement for the Southern Tier.
NOTE: Industry + company data provided will focus on companies operating in the 14 Southern Tier counties shown here.
DESIRED OUTCOMES: attendees leave with an understanding of:
Current state of the Southern Tier with regard to Key Performance Indicators
Characteristics of a high performing organization, or region, in a constant "State of Readiness"
Action steps to accelerate positive growth
Industry Cluster Identification, strategic significance, relevant companies and opportunities
General awareness of ST8 CEDS & "Economic Gardening" concepts
Success stories from the area
General and industry cluster networking
AGENDA (Working Draft) – See official Industry Summit for latest.
8:30-8:50

Welcome – Jen Gregory, Executive Director, Southern Tier 8
. . . . . . . and MC – Tom Kowalik, President, Kowalik & Associates LLC
Mission and new brand name: ST8
Purpose of conference – awareness / CEDS execution
Recurring conference – 2019 / 2020 etc.
Agenda for the day + Thanks to Summit Sponsors

8:50-9:10

Video – Potential of the Southern Tier

9:10-9:40

Keynote Speaker – State of Readiness -Joe Paris, Chairman of XONITEK
State of Readiness for companies + implication for industry clusters
Joe's "State of Readiness" book will be provided to all attendees

9:40-10:15

Current State of the Southern Tier – Jeff Smith, Planning Consultant (x-SVP @ NYSEG)
. . . . . . . And Primer to Municipal Resources – Jen Gregory, Southern Tier 8 Regional Board
Realistic overview of State / National Rankings
Identification of trends that need to be reversed
Awareness of the immediate need for action
Best practices for Economic Revitalization
Existing models & Current initiatives
Role of ST8 and similar organizations

10:15-10:35

Industry Clusters – Mike Decker, Owner, ERA Decker Real Estate
Industry Clusters Defined + A High-Level View of Benefits
Overview of Southern Tier Data for 3,000 Southern Tier companies
Southern Tier Industry Clusters (identified in CEDS)
Regional Economic Development Use Cases (Private + Public)

10:35-10:55

Networking / Booth visit Break

10:55-11:10

Energy Industry Cluster (clean) – Tom Kowalik, President, Kowalik & Associates
TEN
76 West / KSTI
Overview of Clean / Alternative Energy Industry Cluster

11:10 -11:30

Success Story #1 – Dr. Shailesh Upreti, Pres., C4V & Interim CEO, Imperium3

11:30-12:05

TBD (? Ty Muse, President & CEO, Visions Federal Credit Union)

12:05-12:15

Regional Portal Introduction + Demo

12:15-12:30

Next Steps – Jen Gregory + Tom Kowalik
CEDS
Lunch outcomes re: Industry Clusters
Future meetings. E.g., Ag

12:30-1:30

Lunch – seating by Industry Cluster
Official SUMMIT Concluded. Optional Post SUMMIT Networking
1:30-3:30

Concurrent Industry Cluster Meetings
[Option for each Industry Cluster (IC) to network/present/whatever.]
Ag, Food + Beverage Manufacturng Industry Cluster (IC Coordinator: Mike Decker)
Energy Industry Cluster (IC Coordinator: Tom Kowalik)
Focused Best Practices
Industry Cluster Development
Entrepreneurial development
Small business growth
Attracting Venture Capital
Industry Analysis
Broad-based collaboration for community development
Community Well Being
State & local regulations
International Sales