So far, the IBB database has over 3,300 entities operating in the Southern Tier.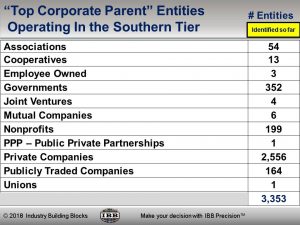 From a Fortune 500 company, to a leading university, to our unique cuisine and exciting entertainment, four Southern Tier companies are shown in the slides below with a partial IBB Line-of-Business analysis.
For a list of over 100 top employers in the Southern Tier, see list below; and for a list of over 3,300 businesses operating in the Southern Tier see ARC14 Names which also includes an additional 1,500 brand names used in the Southern Tier.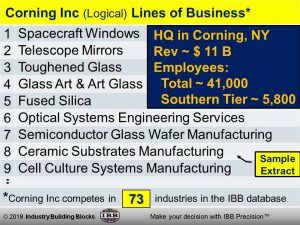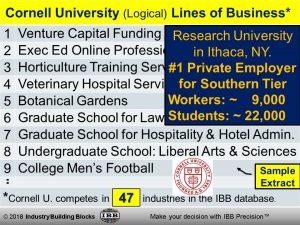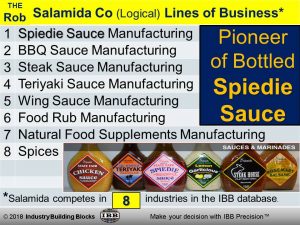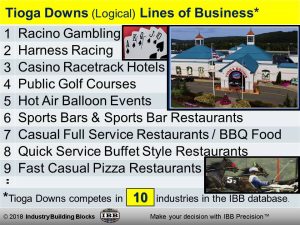 Some of the largest employers in the Southern Tier include:
Absolut Care
Actuant Corporation
Albany International Corporation
Alstom SA
Amphenol Corporation
Arnot Health Inc
Ascension Health Inc
BAE Systems
Bassett Healthcare Network
Bed Bath & Beyond Inc
Bollore SA
Bombardier Inc
Bon-Ton Stores
BorgWarner Inc
Brookdale Senior Living Inc
Buckingham Manufacturing
CAF Group
Cameron Manufacturing & Design
Cargill
Casella Waste Systems
Cayuga Health System
Charter Communications Inc
Chemung Financial Corporation
Children's Home of Wyoming Conference
Chobani LLC
Computer Task Group
Cornell University
Corning Inc
Cortland Regional Medical Center
Crestwood Equity Partners LP
Crown Holdings Inc
Crown Park Rehabilitation & Nursing Center
CVC Capital Partners
CVS Health Corporation
Danaher Corporation
Dick's Sporting Goods
Dollar Tree Inc
Eaton Corporation
Elcor Nursing & Rehabilitation Center
F M Howell & Company
FedEx Corporation
Franziska Racker Centers
General Electric
Good Shepherd Communities
Greek Peak Holdings LLC
Gutchess Lumber Company
Guthrie Healthcare System
Hardinge Inc
Hartwick College
Hilliard Corporation
HNI Corporation
Home Depot
i3 Electronics
Iberdrola SA
Imperium3
International Business Machines
Intertek Group Plc
Ithaca College
JC Penney
JM Murray Center Inc
KeyCorp
KIK Custom Products Inc
Kohl's Corporation
L3 Technologies Inc
Lockheed Martin
Lowe's Companies Inc
M&T Bank
Maguire Family of Dealerships
Maines Paper & Food Service
ManpowerGroup
McWane Inc
Mercury Corporation
Mirabito Holdings Inc
Modern Marketing Concepts
Monro Inc
Navient Corporation
NBT Bancorp Inc
Nucor Corporation
NYCM Insurance
Onondaga-Cortland-Madison BOCES
Pathways Inc
Patriarch Partners LLC
Rehabilitation Support Services Inc
Rockwell Collins Inc
Roper Technologies Inc
Schlumberger
Security Mutual Life
Sidney Federal Credit Union
Siemens AG
Sodexo
Southern Tier Custom Fabricators
Southern Tier Independence Center
Springbrook
St James Mercy Hospital
StorFlex Fixture Corporation
Suit-Kote Corporation
The Golub Corporation
The William George Agency for Children's Services Inc
Tioga Downs
Tompkins Financial Corporation
Toyota Industries Corporation
Tractor Supply Company
Trayer Products Inc
Triple Cities Metal Finishing Corp
United Health Services
United Parcel Services
Upstate Shredding LLC
Vestal Park Rehabilitation & Nursing Center
Visions Federal Credit Union
Visions Hotels
Wal-Mart Stores Inc
Wayfair Inc
Wegmans Food Markets Inc
Weis Markets
WestRock Company
Willow Run Foods
World Kitchen LLC
Note that IBB analyses over 12,000 global companies around the world, as well companies in Upstate NY regardless of size in support of Industry Cluster development with ST8. The companies are analyzed in terms IBB's Industry Classification System (IBBICS).