The Southern Tier needs better holistic planning.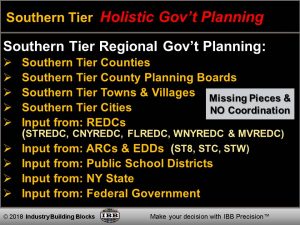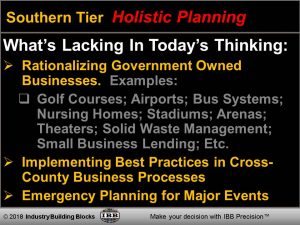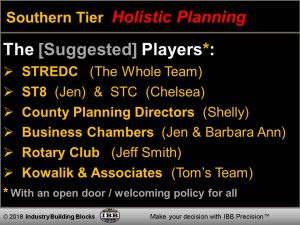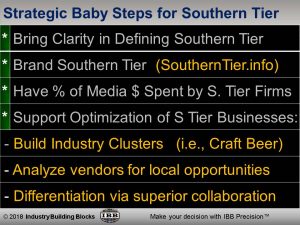 Importantly, STREDC, ST8 + STC + private business leaders need to collaborate more and begin planning holistically, which moves beyond just asking for money from the state and federal government.
In addition, NYS Departments need to use a common definition of the Southern Tier to improve resource alignment. See Governments for examples of how NYS defines the Southern Tier differently by the ST8, the STREDC, the NYDoT, NYSERDA, the "I Love NY" campaign, etc.
County Planning Agencies
Metropolitan Planning Organizations
Issues Facing the Southern Tier
Workforce development (training; drugs; criminal record + redemption)
Regional government groups have not worked together closely (STREDC with ST8 and STC)
No business development entity like CenterState
Industry Clusters (too few; too underdeveloped)
Local business involvement is low
Not enough business leaders that are outward focused
Use of best practices is not common
New York State regulations (too many; too costly)
Multiple definitions of the Southern Tier
New York State taxes too high (property)
Rural NY has added issues (connectivity; scale)
Housing is aging; absentee landlords; and high taxes limit new housing
NYS politics is currently viewed as too corrupt with ongoing trials from Long Island to Buffalo, with multiple links to state programs
. . . For issues by Industry Cluster, see Southern Tier Clusters
Southern Tier Opportunity Zones